Carré Curieux
Famille Choisie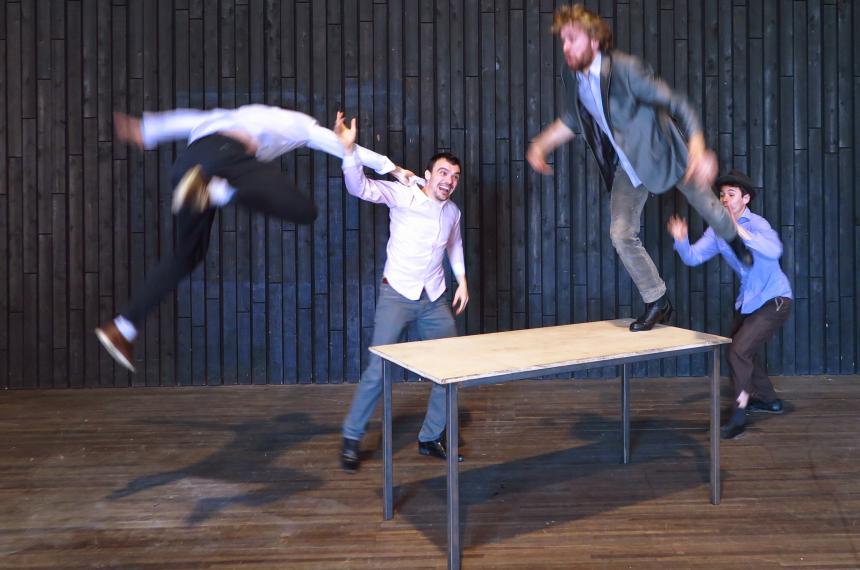 Credits
with Luca Aeschlimann, Gert De Cooman, Vladimir Couprie, Kenzo Tokuoka
staging Titoune Krall
 
stage director Alexis Dansin
technical director Olivier Melis
lighting designer and lighting director  Nicolas Diaz   
broadcasting Véronique Delwart
costumes and set design Colette Huchard
creation April 2018
duration 60  mins
 
techniques juggling with kites, acrobatics, rope, unicycle, diablo, aerial acrobatics
audiences from 8-year-old
The Show
Famille Choisie deals with the "artificial" but very specific family relationships that grow up between individuals who work together every day on a lifelong project.
Profound societal considerations underpin this work: how we live together, and the solidarity needed for any human achievement. Such issues form the backdrop for the company research. The subject is vast, even commonplace, yet highly topical, the banality of the theme is admitted in the name of its infinite depth and the value hidden behind the sincerity and apparent simplicity of the research.
The Troupe
Carré Curieux was founded in 2007 by four artists with very different backgrounds.
 Luca Aeschlimann discovers juggling in an environment far from the circus schools, taking care of his sheep, then he studies at the circus school of Bordeaux, Gert De Cooman has always been attracted by the heights and  by the unattainable, that he seeks using  the tecniques  discovered attending the school of circus of Leuven, his hometown, Vladimir Couprie after a brief career as a jazz musician discovers the art of the diablo and makes it the way to express  his  inner world through an intimate approach. Kenzo Tokuoka is above all a traveler, an atypical French-Japanese mix who develops a passion for movement in all its forms and makes it his main trait.