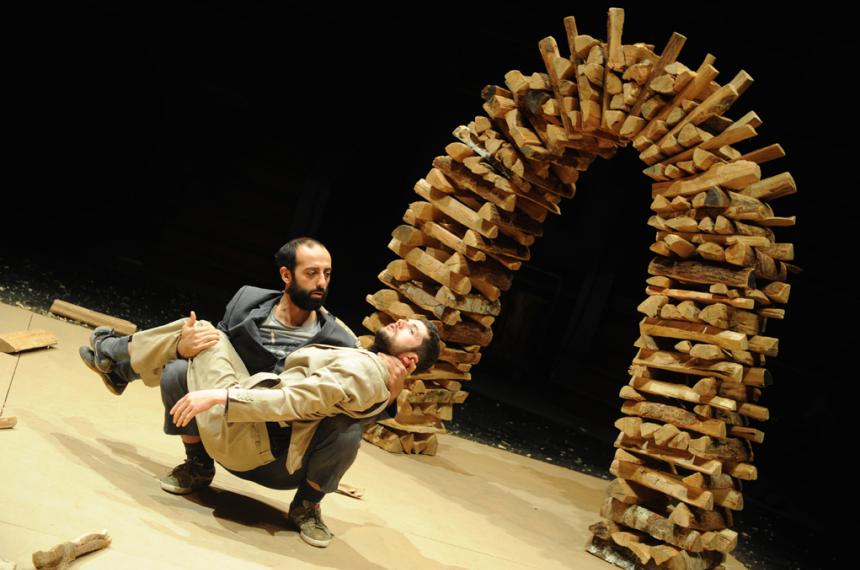 Credits
with Julian Blight, Mathieu Delangle, Valentin Pythoud, Claudio Stellato
light design Florence Richard
coach Nicanor De Elia
installation, design Nathalie Maufroy
staging Julian Blight, Renaud Bluy, Valentin Buyse, Mathieu Delangle, Nathalie Maufroy,
Valentin Pythoud, Claudio Stellato.
The Show
Four cubic metres of wood, four individuals and four axes. Working once again on the idea of disappearance and appearance, glossing over the boundaries between the human body and natural material, revealing the possibilities of a contortionist choreography imbued with the practice of circus disciplines, our four woodcutters cut out a unique artistic path.
Taking turns being acrobats, dancers, performers, actors, magicians, plastic artists and scenographers, all at the same time, they push back the boundaries of the genre in an organic and sensual attempt to blend the art of the body in motion and natural materials.
The Troupe
 Claudio Stellato,a multidisciplinary artist born in Milan (Italy) in 1977, lives and works in Brussels. He trained at the Scuola Civica Jazz in Milan and gained experience in street theatre with several troupes.  In 2001 he joined the Lido, the Centre for Circus Arts, in Toulouse. Between 2004 and 2014 he was a dancer with several companies: Cie Kdanse, Olivier Py, Roberto Olivan, Cie Arcat, Fré Werbrouck, Karine Pontiès, the Cridacompany, L.O.D and others. His first play, L'Autre, debuted at the Théâtre des Brigittines, in Brussels, in March 2011 and has been touring internationally for the past four years. Alongside his creations, he has acted as external consultant on several projects. He also runs regular workshops. Since January 2014, he has been an associate artist at the Halles de Schaerbeek in Brussels.

Mathieu Delangle discovered circus life in 1998 as conscientious objector at the Cirque du Docteur Paradi (France). He took part in several creations with this company and with La Brèche, the National Centre for Circus Arts of Basse. Depending on the project, he explores different aspects of the creative process: lighting, design, construction, graphic design and video. He took part in building the sets of several films by Abel, Gordon and Romy.
In 2007, he built the sets and machinery for Jeanne Mordoj's show, Éloge du poil, and then accompanied it for several years on tour as the assistant to the bearded lady. He regularly collaborates with a number circus companies, mainly as a builder, painter or machinist, and currently as an actor for the show La Cosa by Claudio Stellato.
 
Julian Blight after training in theatre studies at the Paris III faculty, and then in Paris VII in sociology, he founded a transdisciplinary collective with which he created performances, performative evenings and a research cycle with dancers, actors, circus artists and musicians.

Valentin Pythoud discovered the circus at the Élastique Citrique, the circus school founded by his parents in Nyon, Switzerland. He explored a great variety of circus tecniques and then graduated from ESAC in 2011.